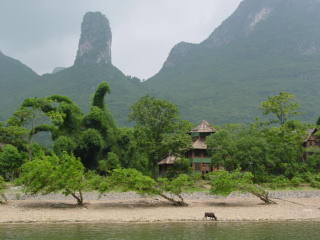 Guilin is one of the most famed cities in China and includes one of the most spectacular mountain sceneries. The mountains around Guilin is for sure breathtaking. It consists of rivers and karst mountains which were part of a prehistoric mountain chain reaching from southwest of China through Vietnam, Burma (Myanmar) to the south of Thailand. Along this route one can occasionally find the same characteristic scenery as in and around Guilin.
Guilin's landscape is almost a must see when visiting China. A cruise on the Li river from Guilin to Yangshou (4 hrs) is on many tourists itinerary. Guilin itself is not the capital of the Guanxi-Zhuang Autonomous Region (that's Nanning) but has lately (year 2001) been transformed into some kind of China's Venice with a touch of Shanghai's neonlights, and seems to thrive from tourism. It is a more pleasant city nowadays, although most of the authentic Guilin is gone.
But the people, beggars, flowerkids, tricksters, exotic food, elephanttrunk mountain and the Li river are still there and it all makes it worthwhile to see the city of Guilin.
The ending point of most cruises from Guilin is in Yangshou, which used to be a small town among the mountains. Today the town has not only its original market and charms, but also a tourist street selling everything from souvenirs, cheap hotelroom, pizza's to minority tours. The minority people make up for 60 percent of the regions population and some of them are easy to visit from Yangshou. The town is changing face these years after being included in grouptours itineraries. Yangshou used to be for backpackers or the travellers from some of China's major cities.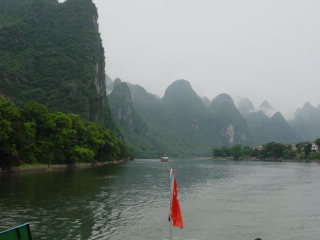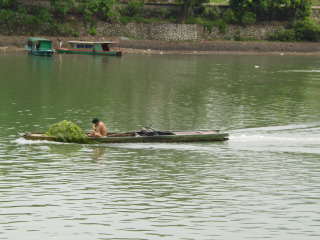 Breathtaking scenery along the Li River.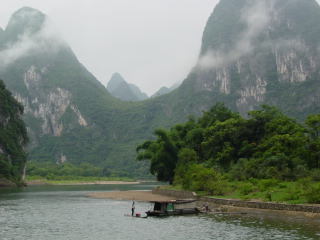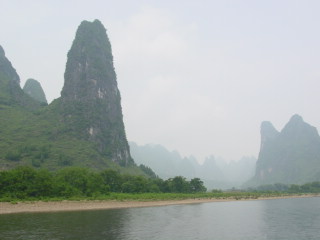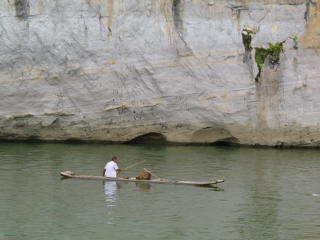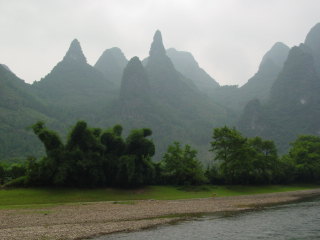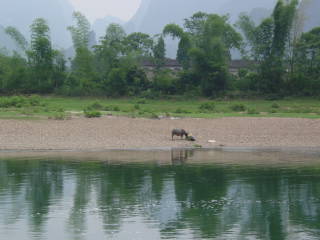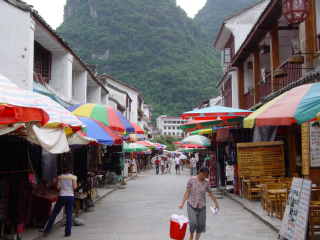 Yangshou among the mountains.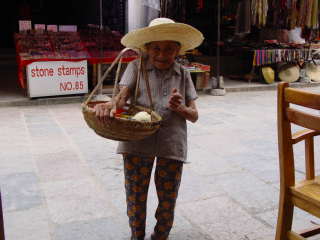 The most successful saleswoman in Yangshou.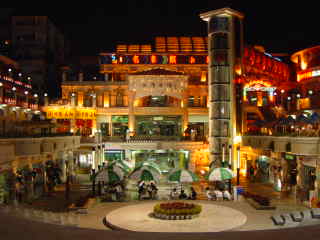 The walking street of Guilin by night.