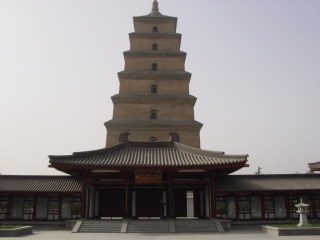 Xian the ancient capital of China is today the capital of the world's eight wonder – Emperor Qin Shi Huang's terracotta warriors.
Xian was the capital of China for more than 1000 years during the Qin, Han and Tang dynasties and playes today a key role in the world of Chinese archeologi. In Xian you'll find Qin Shi Huang's, the first emperor of China, mausoleum. Although it remains closed it is regarded as the largest mausoleum in the world complete with an underground palace including a quicksilver river and a sky made from jewels and pearls. About 1,5 km away the guarding soldiers of the tomb has been partly unearthed and the interesting working museum displays the man sized terracotta warriors, horses, chariots and so on. Amazing. The young emperor believed in underground life after death and of course he should have an army to protect his palace. Lately also circus performers and officials have been found and they all add to the magnificence of Qin Shi Huang's underground world.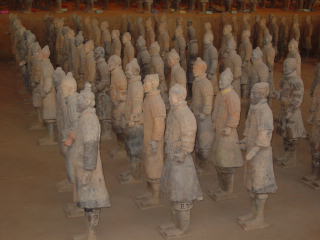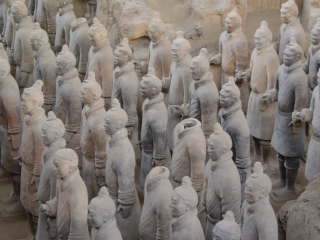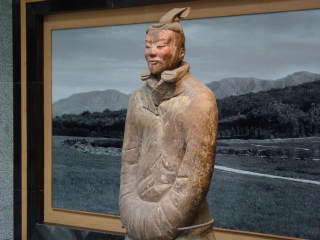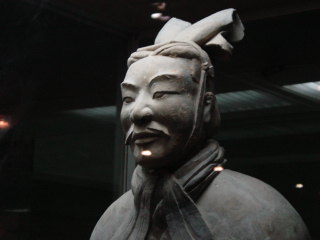 The Han emperors also left some interesting tombs around Xian and recently have been found small sized terracotta figures of animals and naked people. Food and waitors in emperor's underground world. Some of them are on display in the recently opened museum not far from the airport. This excavation lacks funding and is not yet included in the Unesco World Heritage program.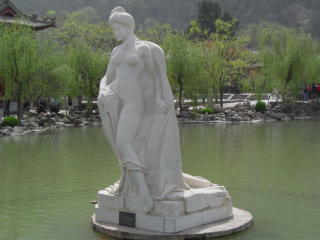 The sculpture of the beautiful Tang concubine Yang Guifei is standing by Hua Qin's hot springs. The site of an Tang palace complete with swimmingpools for the emperor and his favorite concubine. Today it is an park holding both the excavated pools and the house arrest of the nationalist leader Shiang Kai Shek in which he was held as prisoner for one week back in 1936. Two of his own generals convinced him to join forces with Mao Zedong and the communists to fight against the japanese.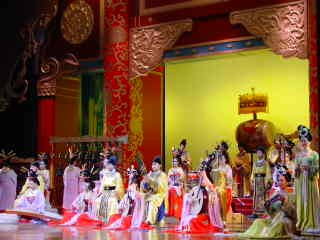 There isn't much to see in Xian beside excavations and tombs, but a must see is the Tang Dynasty Theatre Show. Make sure that it is the original one, since Xian of course has several fake shows. The show takes you back in time to the Tang Dynasty era and tries to recreate the glamour and wealth in which these emperors and their people lived. The concubine Yang Guifei dances and the fantastis mr. Gao Ming playes his flute. An experience not to be missed.