Huang Shan - Yellow Mountains of Anhui province is so famous in China, and many chinese believe that if one have been to Huang Shan then there's no need to visit any other mountain.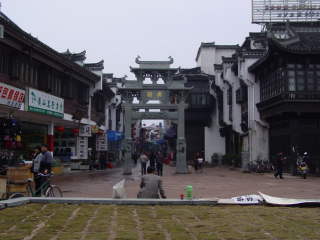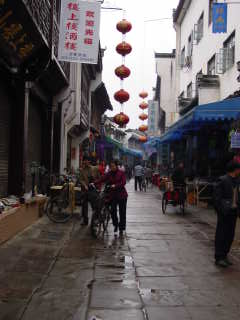 Our Huang Shan tour started from Beijing and took us in 20 hours by train to Tunxi - also called Huang Shan City. It is cituated 1,5 hours by car from the mountain itself, and is a medium sized gray, messy typical chinese city. But it has an interesting old street with typical Anhui houses which originates from the Song dynasty. In this street you can find products of bamboo, tree root, tea, dried herbs, different art and antiques.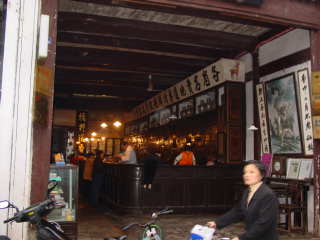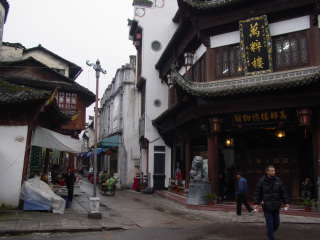 The old traditional chinese medicine shop still has good business.
The museum entrance fee is 20 rmb. a private collector display's many old house decorations and artifacts.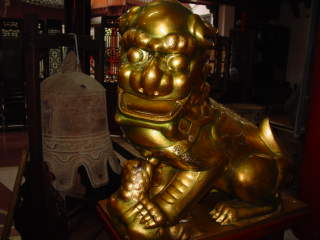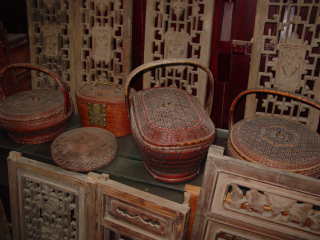 A lacquer lion from the Qing dynasty. Household items collected from the rural areas.
It is not too difficult to find a reasonable priced hotel in Tunxi. We stayed one night for 150 rmb in a nice hotel with 24 hrs warm water, aircondition, tv and private bathroom.
The following morning we went by bus to the town at the foot of the mountain - Tangkou. A nice drive through the countryside for about 1,5 hr. The town itself is absolutely spoiled by tourism, and it is not a nice place to stay for more than a few nights. The citizens have absolutely no awareness of environment protection and through all waste into the river which cut through the town. But you have to stay here if you want to explore the area on the east side of Huang Shan.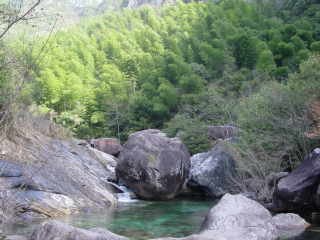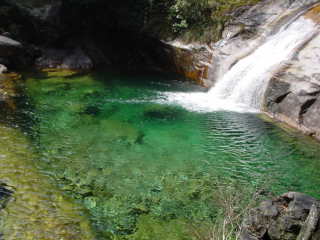 The first choice on the east side of Huang Shan has to be Fei zui gu - the Green Jade Canyon. It is the place where part of the movie Hidden dragon, crouching tiger were filmed, and it is a place full of crystal clear jade green pools.
Another beautiful place is the Jiu long pu - Nine dragon waterfalls. It takes a long and hard trek for about 1,5 hr before you arrive the waterfall itself. Tirering but rewarding. We recommed you to take a sedan chair - you need to save energi for climbing Huang Shan and sedan chairs here are much cheaper than on Huang Shan.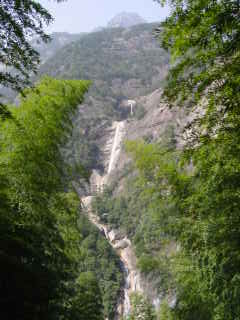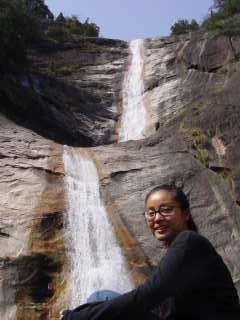 The Nine dragon waterfall seen from a distance. It is composed of all together 9 waterfalls. 386 m from top to bottom.
We washed feet at the top of the fall. We were told that if you wash feet in this water - they will never smell.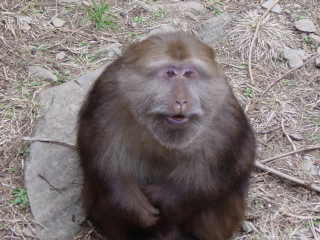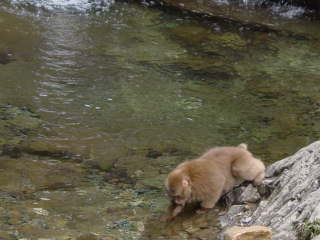 One more place deserve your visit and that is the The Yellow Mountain short tale monkey park. Again it involves a trek, this time an easy one through some forest, before you arrive the monkey feeding place. In the afternoon they are fed at 16:00 o'clock, but arrive earlier because the monkeys are waiting and playing there. If you arrive excactly on the feeding time they are busy findind the food without lifting up their faces or socializing. This monkey is not tame. Do not look them directly in their eyes. They are agressive, like to fight, and they are big as a 8 years boy. Not a sweet monkey but fascinating. They have one prestigious monkey king who drives away the other males in the group when they reach a certain age. It is a mother society, the females do the business and the fighting. It is not common to meet them on other locations in the mountain. Nonetheless we had a terrifying experience a few days later when we walked down from Huang Shan at dusk. Two big monkeys blocked the path as if they expected us to give them something. suddenly we realized that we actually were on their mountain and now we had to pay. Of course you are not supposed to feed wild monkeys, but the only way we could pass was by throwing our last two biscuits at them. Unfortunately one monkey took both wich made the other one very angry. Sherri passed quickly, but Andy had to FACE the monkey. From his mouth came a deep and terrifying sound and he showed his big teeth. For some reason he decided not to attack. We left the mountain with beating hearts - but safe.
We also managed to visit other places, but we think they are not recommendable. These three make a good daytrip at the foot of the mountain. Taxi should cost app. 100 rmb and entrance fee is about 20 - 25 rmb p.p. for each place.