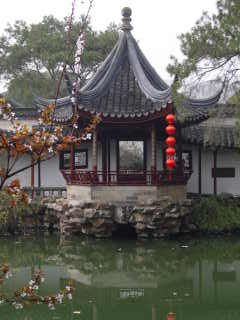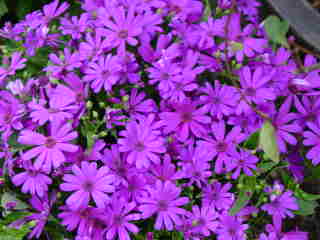 In China there is a saying: In heaven we have paradise, and here on earth we have Suzhou and Hangzhou. We have been to Hangzhou, and though it is nicer than many other cities we didn't excactly find paradise. So we decided to visit the second earthly paradise, the garden city - Suzhou.
During a stay in Suzhou it is easy to visit a couple of gardens per day. We managed to see five of these magnificent chinese gardens. A chinese garden should hold important components such as rocks and water and try to recreate a whole piece of nature within the garden. In spring ad to this plenty of flowes and blooming trees and you have a real Suzhou Garden.
The Master of the Nets Garden (Wangshi Yuan) - from 12th century and restored in the 18th century is the smallest of them all, and some think it is the most beautiful. Many buildings, a small lake and pleasant scenery is the feature of The Master of the Nets.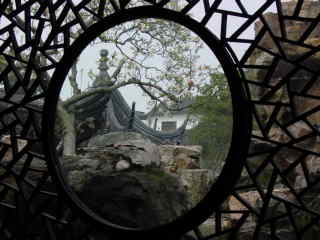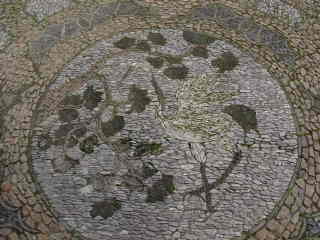 Humble Administrator's Garden (Zhuozheng Yuan) - from 15th century is a huge garden. When entering you arrive the new park, which opened in the beginning of the communist era. The real garden is behind the walls lining the park and it is spacious and pleasant with a big lake, little viewing pavillions, living quarters, potted landscape department and some bamboo here and there.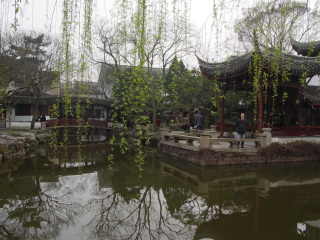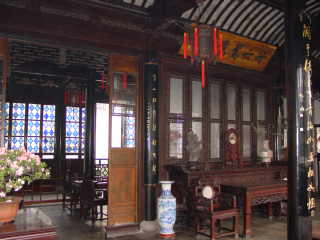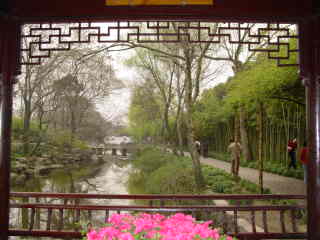 The nice building in Zhuozhen darden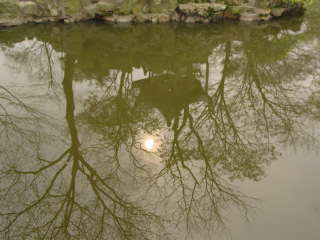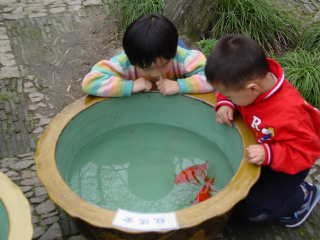 Lion Grove (Shizi Lin) from the year 1350 is a small but impressive garden with lovely mosaic, a lake (of course) and nice buildings. Buddhist monks raised money and laid the garden in memorial of their master with plenty of rocks, one groupstone resembling nine lions. The monk Tian Ru, who was the first inhabitant of the garden, once said: They tell me that I live in a city - but I am among hundreds of mountains.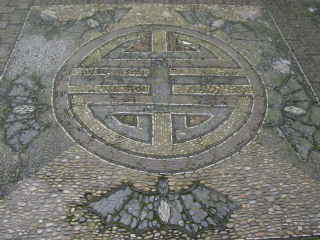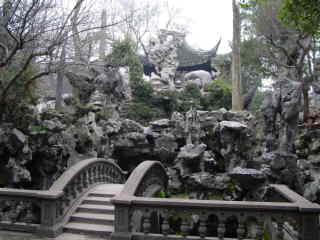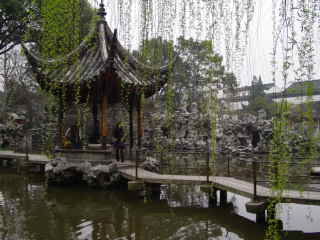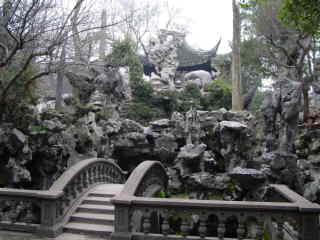 Tiger Hill (Huqiu Shan) from the 10th century is very popular among chinese tourists and is not among the gardens under the UNESCO World Heritage program. The hill is the burial place of the founder of Suzhou and on top of the hill in the 10th century there was built a pagoda which today is leaning heavily to one side. An interesting sight, but perhaps not enough to overshadow the other strange displays in the garden. For example a room with an aquarium full of dead and alive coralfish. Flanked by a smaller aquarium holding a 5 months old strugling seaturtle.
Liu Yuan (Garden for Lingering in) from the 14th century is another of Suzhou's famous and large gardens. It has more open space, more flowers and also a nice area for potted plants.
Each of the Suzhou gardens has its own charm and are perfect places to relax and enjoy some leisure time.