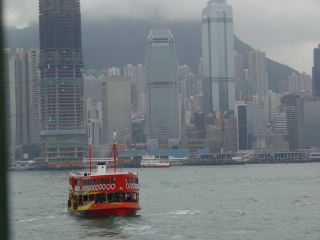 The strait between Kowloon and Hong Kong Island
Hong Kong was since the time of the opium -- war ruled by the British, but in 1998 handed back to the Chinese. It has not made the city less fascinating. It is an international metropole not found equal in the rest of China. As part of the akward one country two systems programme Hong Kong is governing itself. Chinese need a travel permit to enter and the currency is still Hong Kong dollar. The one country two systems have been promissed by the central communist government in Beijing to run for the next 50 years.
Everything seems to be more expensive here than in the other China, but actually you can find good bargains especially on watches and electronic. Another difference is that you have the choice of a world regarding food and fashion.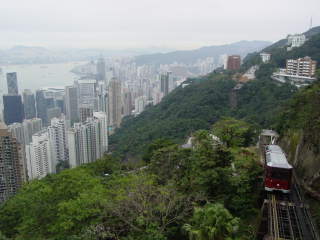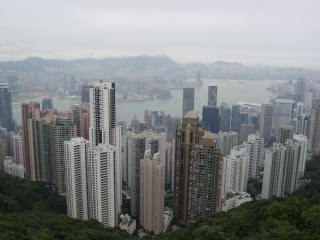 There are plenty of things to see and do in Hong Kong. It is a must to take the old tram to the Peak on the island and enjoy the breathtaking view of Kowloon and the harbour.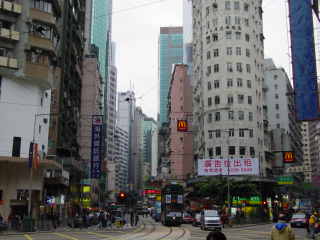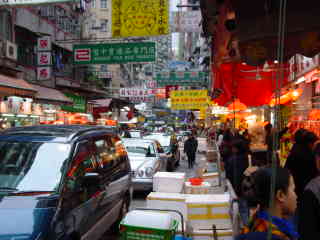 In the other part of the island -- the little trolleys -?? take's you around for 2 hkg dollar. A charming way of transportation and it is easy go get on and off - the stops are close and convenient located for further exploring this excotic part of the city with the markets and furniture shops. This is also the place to experience a market with fresh fruit (expensive) and fresh fish.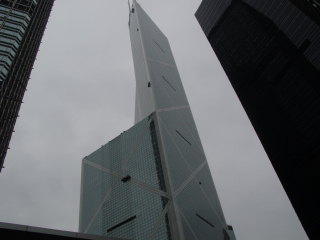 Hong Kong is a fascinating mix of old and new buildings, but with emphasis on the new.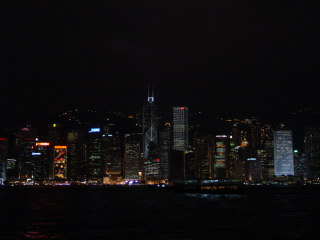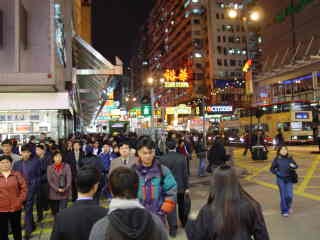 If you like neonlights then Hong Kong by night is a spectacular sight, and it seems as if people are busy even late at night - a contrast to the other China where most cities are more or less deserted after 22 hrs. Restaurants and bars stays open late and it is possible to find entertainment any time of the week.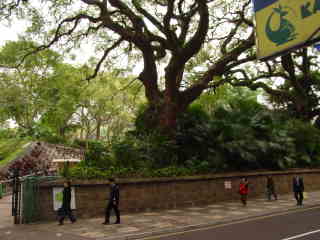 The best part of the city is perhaps Kowloon - the place to shop for all kinds of souvenirs and the first choise for many tourist. But also the island has nice places with a more local feeling to it. The park in Kowloon is pleasant and around this part of town it is easy to find inexpensive accomodation. Hotels and hostels seems to be placed on almost every streetcorner together with plenty of shops and restaurants.